MetaFactory was born from a desire to cultivate crypto culture through fashion and apparel and explore the possibilities of a decentralized, community owned brand and marketplace. 2021 was the DAO's first full year in operation exploring many of its original hypotheses and ideas.
MetaFactory made significant progress in the last year progressing its physical production and fulfillment capabilities. The introduction of the our dedicated MicroFactory in Berlin further extends these capabilities and opens new opportunities for experimentation and efficiency.
We anticipate that 2022 will see greater emphasis and focus placed on our digital strategy and NFTs as we pursue our vision for an open metaverse of interconnected worlds. Stay tuned for new assets, sales approaches, content and interviews with the top minds in the metaverse, digital fashion and web3.
Additionally, the MetaFactory community plans to introduce new tooling to not only support the needs of DAOs, but to extend the opportunity for positive sum alignment across communities and networks.
The MetaFactory shop and individual account management will soon be receiving a facelift with greater emphasis placed on $ROBOT and the DAO. As new token utility is introduced by the iROBOT army, we will further extend this interface to accommodate.
For MetaFactory, there are two fundamental intersections between fashion and technology.
The first is the element of style and self-expression. Fashion is a representation of culture and an extension of identity.  People often choose to wear certain brands to align with the values they represent: 'I wear Nike or Lululemon because I am an athlete, etc.' It can also represent your participation - a shirt from a specific concert or sporting event: 'I was there!'
As we begin to look at digital fashion combined with web3 technologies, this takes on new potential. MetaFactory believes in the continued evolution of digital experiences and that fashion plays into how we choose to express ourselves. But more than just a cool wearable, digital fashion is an extension of your digital identity - a reflection of where you've been and things you've done.
The second intersection is leveraging new technology for improving coordination and alignment. One aspect of this hits on improving best practices across physical production with an emphasis on efficiency and sustainability.  The other aspect is about rethinking value capture/distribution to create and sustain positive sum feedback loops. A blend of automated tooling, intuitive tokenomics and reward standards working in tandem with P2P coordination and governance has allowed MetaFactory to create better alignment across our community. We have evolved passive consumerism to active participation, where contributions of all forms are rewarded through a greater stake in the brand.
As we grow in size and scope, coordination becomes more challenging and we need new ways of organizing people and work. For MetaFactory, the community has organized into four core working groups:
Fashion Research and Production
VR / Metaverse Crew
DAO Research and Tooling
Tokenomics / Incentive Design (iROBOT)
Each of these groups are self-organized and managed, pursuing their own core objectives, while supporting the needs and greater goals of the MetaFactory community.
Let's dive in!
Fashion Research and Physical Production
Community Leads: Weseecleary, Franchesko, DamagedGoods, and Cory
Over the past year, MetaFactory has been primarily focused on physical goods production, sales and fulfillment with a large effort placed on establishing key partnerships and processes. As a result, we have had tremendous success as a crypto culture merch producer and marketplace:
A Quick Rundown of MetaFactory's 2021 Accomplishments by the Numbers (approx.):
6,000+ Orders
$1.3MM in Product Sales
150 Products Created and Sold
$214.50 Average Order Size
300+ Creative Contributors
1,130 ROBOT token hodlers
3,400 Discord Members
This success is a result of our incredible community of designers, technicians, garment makers, producers, ateliers, developers, community managers and of course, our customers.
MetaFactory has made strong inroads to decentralizing the creative end of fashion design, however, we see the opportunity for more. Fashion as an industry is ripe for disruption. Broken business models, antiquated designs, labor exploitation, fragile supply chains, and excessive waste are just a number of issues plaguing the space. We can and need to do better.
MetaFactory has many different production partners specializing in everything from on-demand sublimation / DTG to screen printing and embroidery to custom, cut & sew construction.  Most of these partners have been invaluable to enabling our progress, but we have reached a point in our growth where it makes sense to bring production in house.  By doing so, we can increase efficiency, reduce waste and introduce more equitable compensation models.
We are proud to announce the introduction of our first dedicated microfactory based in Berlin, Germany: the MF Berlin Werkstatt. This studio is currently set up for tinkering and prototyping.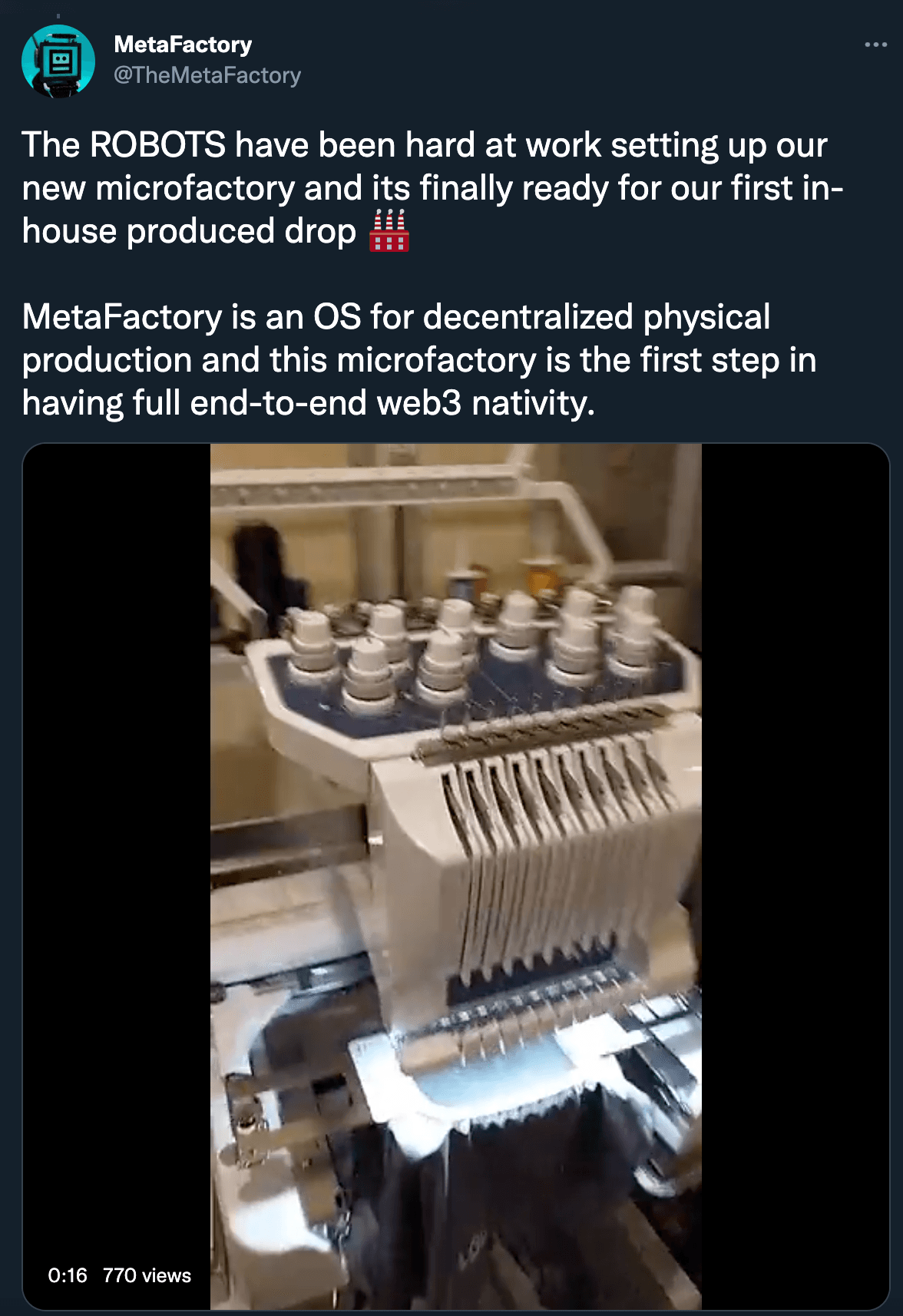 A range of machines provide MetaFactory with core capabilities and we leverage a local network of small, like-minded producers to supplement as needed. We are able to offer the standard processes and garments, while also innovating on construction and decoration/trim without disrupting our producers' workflow.
The areas of most interest to our Fashion Research arm are modularity, fabric manipulation, traditional/ethnic craft innovation and provenance, tech fibers, digital printing techniques, natural fibers and biomaterials, procedural pattern design, digital prototyping, and flexible sizing.
MetaFactory aims for its Berlin Werkstatt to serve as a networking and research nexus for local schools, platforms, entrepreneurs and producers, helping to push innovation and disruption beyond our project to the fashion industry as a whole.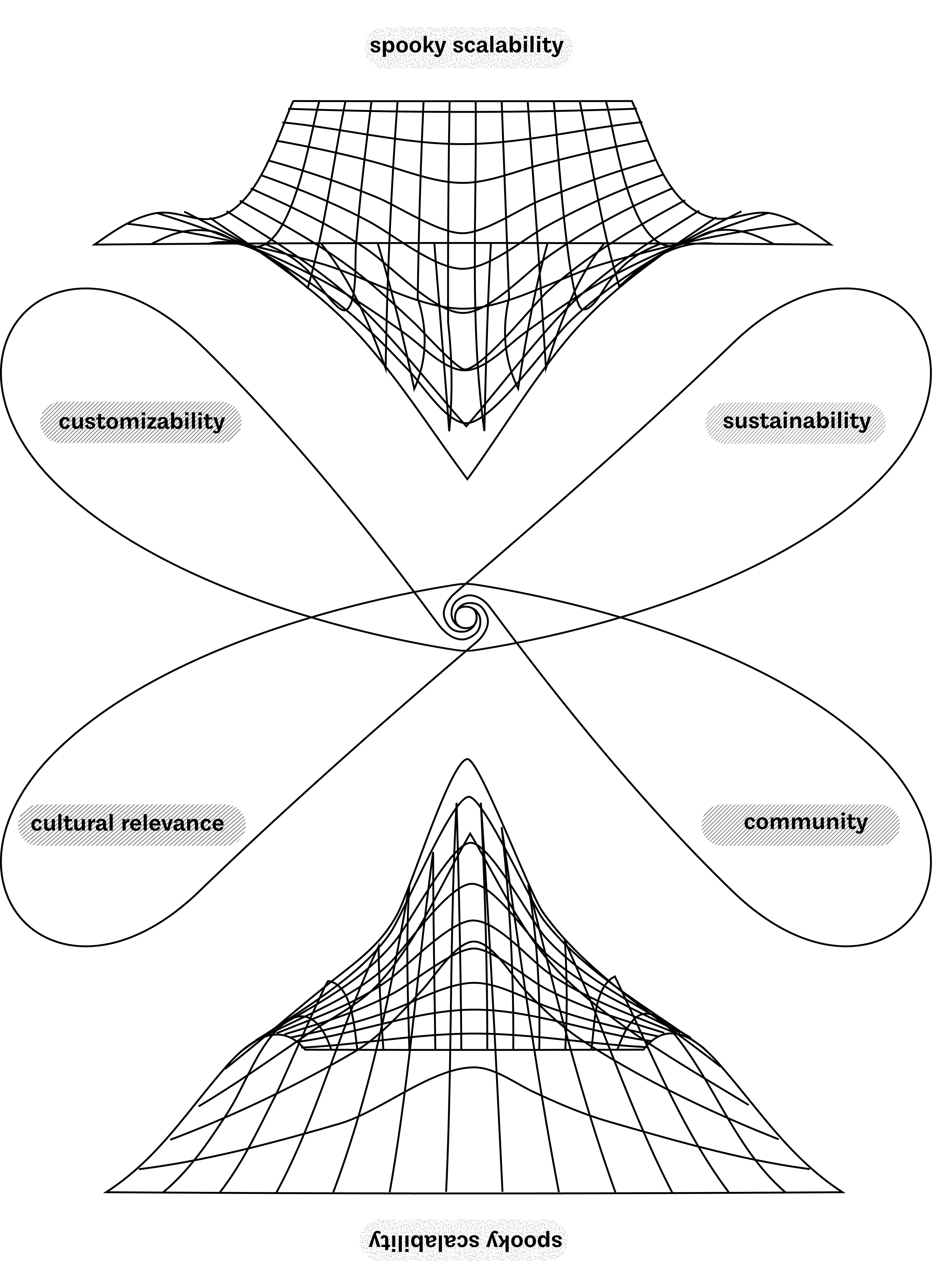 Our current areas of focus and specialization are as follows:
1/1 Customization. The ability to customize individual pieces is a powerful theme that further highlights fashion as an extension of identity. MetaFactory's MetaLoot drop is our first exploration of an individually personalized drop. More specifically, MetaLoot is mintable merch for Loot and Synthetic Loot holders, craftable with $AGLD and redeemable for a full set of custom embroidered raiments. Jump to the post for more details.
Zero Waste Design.  Current garment patterns are inefficient and create tremendous waste. MetaFactory is leveraging Zero Waste Design in order to create custom blanks and introduce new sustainable garment patterns. Danielle Elsener of DECODE is the mastermind and producer behind this. Bonus: every piece is made in NYC.
Innovative Ergonomics.  Garments should work/move with your body, rather than against it. We've developed three specialized constructions with Rickard Lindqvist, PhD.—a hoodie (used for the Vaunker genesis drop), a shell jacket, and shell pants—which introduce his innovative pattern cutting approach never seen before in (recorded) history 👽
KONG SiLo Chip Technology. Specialized hardware allows MetaFactory to imbue physical pieces with cold wallet storage capabilities, unlocking new interactions and experiences. (ie. perpetual upgrades, retroactive airdrops, special access to events, etc). We have recently started to incorporate KONG's v2 chips, Halos.
DAO / Web3 Tooling. We are working to red pill our network of partners to a new, better possibility for collaboration. Streaming tokens to seamstresses/seamsters, garment makers, printers, etc. so that they become vested in every project they touch, is a worldwide revolution the fashion industry never saw coming. We call it the network effect of empowerment.
MetaFactory plans to continue expansion of the capabilities and services offered by our Berlin microfactory.  Next, we are opening a New York location in partnership with Danielle Elsener and DECODE. We are also exploring a more collaborative, makerspace location with greater emphasis on digital/VR/metaverse in the greater Denver metropolitan area.  MetaFactory is moving atoms in 2022.
Community Leads: Jin, Boomboxhead, Sinkas and Arashi

There has been no lack of legacy brands and companies jumping on the Metaverse bandwagon in 2021 with the most notable being the complete rebranding of Zuckerborg's Facebook to Meta. For many, this raises more concern than excitement as social media has produced some of the most exploitative and value extracting platforms to have ever existed. The metaverse as a concept existed long before these zero-sum corporations and we refuse to let them dictate its future. Web3 offers a chance to increase freedom, opportunity and privacy for all people - especially the disadvantaged.
The metaverse is becoming an extension of the shared, open economy that many of us in web3 are working hard to realize. A new social communication layer to complement and extend the internet. Mixed with the financial tools and opportunities provided by web3, we see an exciting opportunity for new economic and social innovation. A new landscape for open creation and collaboration able to connect different individuals and social groups into an interwoven tapestry of values, principles, and motivations. A hyper-connected digital society accessible to everyone despite geographic region and socio-economic status. It's a dream, but one worth having. And instead of watching with caution or bitching with concern, we choose to build the future we hope to see.
MetaFactory views avatars, wearables, and all forms of digital fashion as an extension of one's identity. Individuals will always desire to personalize one's experience through custom avatars and wearables, however, digital wearables can also signal one's reputation. The future of digital fashion is a reflection of achievement as much as taste.
Currently, the metaverse is a series of fragmented worlds, many of which are walled gardens solely focused on their own immediate platform mechanics/economics vs. a larger, interconnected experience. Every virtual world desires to maintain control over its economic incentives pertaining to currencies, land, wearables and more. There is, however, a much greater opportunity in the positive sum alignment of these platforms and their networks, and MetaFactory's Metaverse Crew is working hard to demonstrate these opportunities.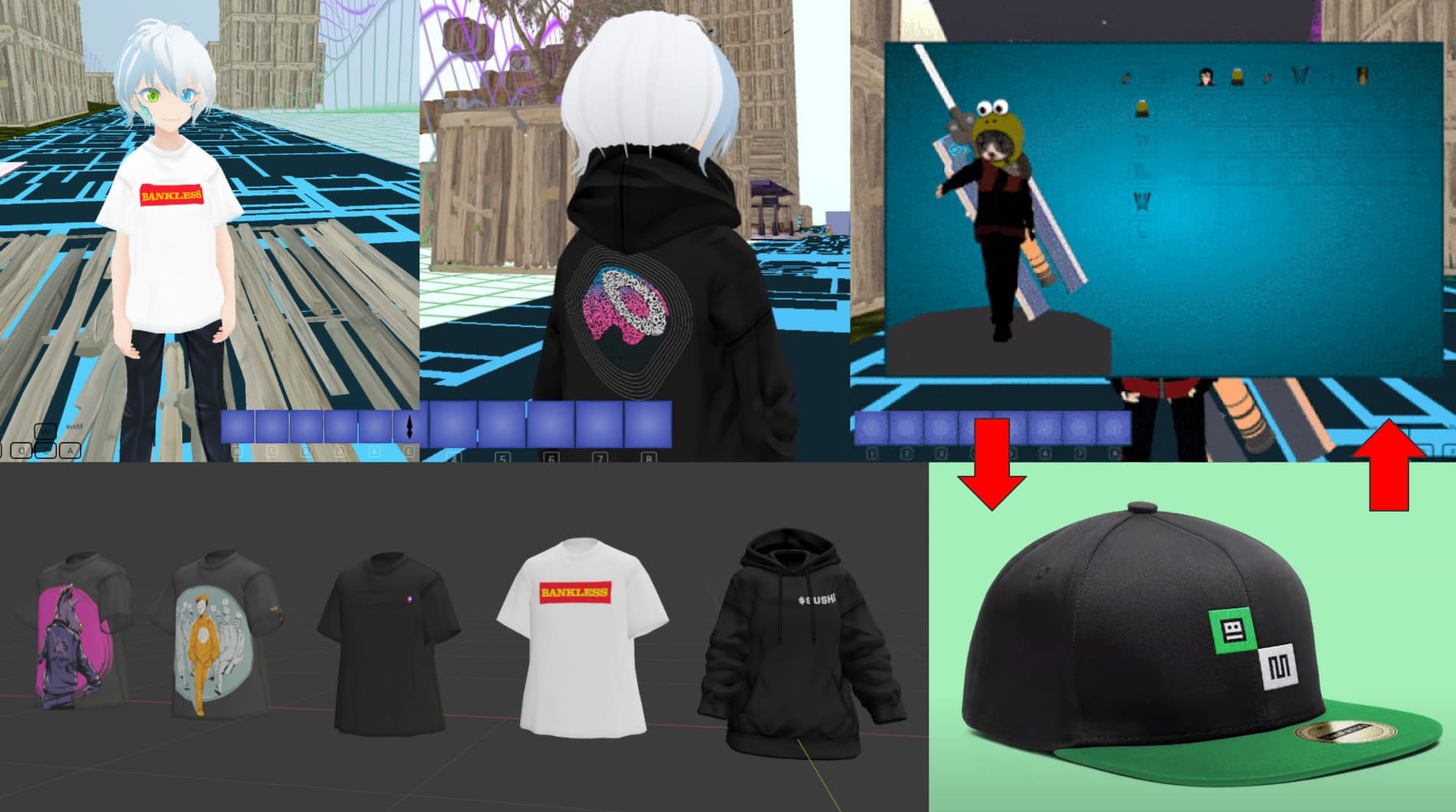 MetaFactory spent most of the last year considering the challenges of interoperability and how we cultivate the open metaverse that our community and others wish to see. In fact, our research informed the direction that MetaFactory has adopted for the upcoming release of our digital wearables. For those who may not be aware, MetaFactory is planning to mint and release a digital wearable complement to (almost) every product that we have sold to date. Anyone who purchased a past product and included their ETH address can expect to receive an NFT representing a digital wearable of that same product. The reason it has taken so long for us to bring these to market is a result of our desire to build with intention.
Instead of minting NFTs without considering challenges of interoperability and user experience, we took our time evaluating options and speaking with others in the space about how they intended to solve this problem. MetaFactory believes it found the right solution via a collaboration with Ceramic Network. As mentioned previously, MetaFactory views wearables as an extension of one's decentralized identity. They need to communicate and interface with one's avatars, personal data, reputations, etc. Ceramic provides the data layer for Web3. It allows MetaFactory to link a single 'master' NFT and update the metadata (file types) in real time. In other words, MetaFactory can future proof its NFTs and provide support for increasing platforms and/or ones that don't exist yet. The alternative would have been to mint a different NFT for each platform based on its particular technical standards, etc. which is counterintuitive to an open metaverse.
MetaFactory's VR/Metaverse crew has been hard at work digitizing every physical piece of MetaFactory merch into interoperable avatar wearables. As an owner you will get access to all current and future file types for maximum metaverse interoperability.
For wearables, we currently produce a vox and a VRoid version. We are currently focused on offering compatibility with the following platforms:
VRoid
Cryptovoxels
Nifty Island base meshes
Sandbox
(Next) Decentraland
Following the release of our NFTs, MetaFactory plans to introduce a variety of virtual shopping experiences to complement and highlight the digital fashion side of our offering.
Sinkas has previously built pop up shops in Cryptovoxels. Boomboxhead also built a custom VR storefront showcasing the various avatar wearables that we're digitizing. It's currently live in VRchat (downloadable from Steam) and Mozilla Hubs (works in the browser). The virtual MetaFactory store includes an experimental avatar dressing station concept, a cash register to process payment, display racks for clothes and cases for digital trinkets like POAPs or toys, and a media lounge with a full virtual production camera setup.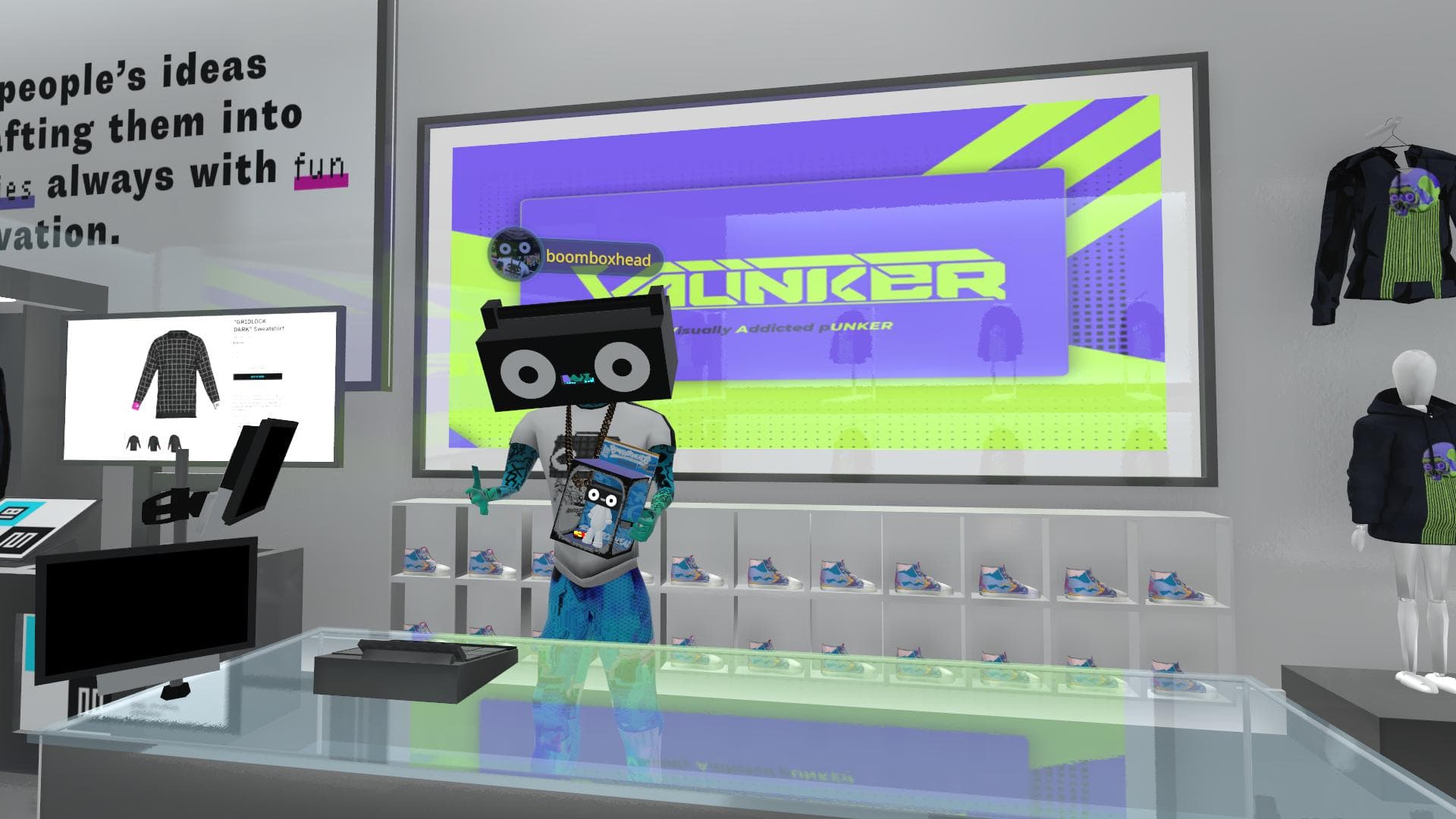 MetaFactory plans to increase its content production in 2022 with an emphasis on virtual productions and interviews. We have some of the most prolific virtual creators amongst our community pioneering new ways of filming, editing and broadcasting in virtual environments. Stay tuned for new content highlighting the top artists, creators, brands and communities in the space.
Community Leads: MetaDreamer and DAOFREN
All this web3 fashion, NFT wearables, and metaverse stuff is awesome, but at the core of it all is MetaFactory's true purpose: solving for decentralized coordination of productive human labour. Most DAOs today are either on-chain social clubs or allocators of capital where their footprint starts and ends within the realm of web3/crypto; very few of them have a product / revenue and impact on the real world outside of crypto.
The bedrock of any functioning economy is productive human labour. Through the process of building MetaFactory, we realized that we're creating the tooling and infrastructure for coordinating labour in a positive sum, incentive aligned way that will be able to outcompete legacy corporations in both efficiency and sustainability. However the road to that utopian solar-punk future has yet to be paved and the path there is uncharted — we are the ones that have to blaze that trail.
MetaFactory is building and experimenting with tools to measure and reward value creation, and in 2022 we will be publishing more of our learnings / playbooks on how they can be most effectively used in the context of a DAO. These tools are the basis of how $ROBOT is allocated to contributors, essentially acting as the "irrigation system" for the infinite permaculture garden we are all cultivating together. We're not just talking about all the ways DAOs will change the world, we are actively doing it and seeing the results first hand.
One of the biggest friction points in DAOs is getting people to "unlearn" their preconceptions of how an organization should operate and function. This is especially true in MetaFactory where we are actively designing our systems from first principles for the DAO paradigm instead of just recreating existing models that people are familiar with but with web3 packaging.
Here are a handful of ways in which we are radically different from "legacy" organizations.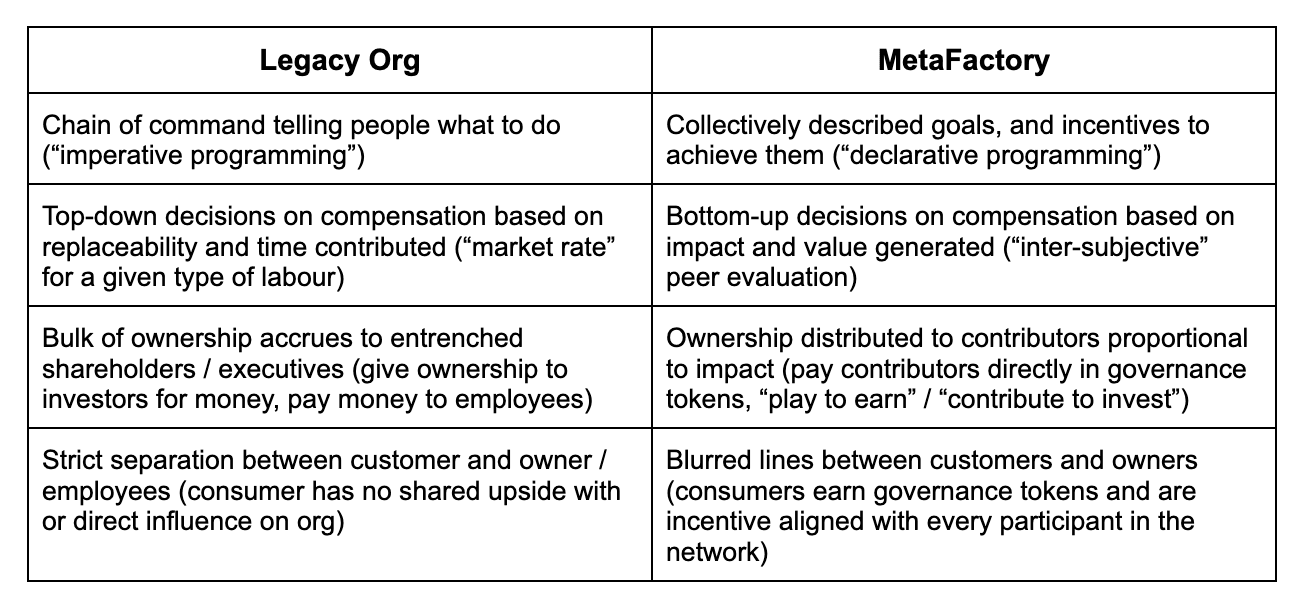 The tooling and playbooks we are building are not exclusive to fashion/merch, they can be applied to any industry where there is a multi-sided market powered by productive human labour.
We truly believe that DAOs are going to terraform our socioeconomic structures and serve as a key enabler to solving some of the biggest problems the world faces today (climate change, polarization, misinformation, exploitation). A lot of people talk about the future impact of DAOs, but MetaFactory is actively doing the work to have a real impact today on everything from supply chains and sustainability to creator economies and the decentralized metaverse.
iROBOT
Community Leads: 🔥_🔥 Team
The following is taken from our iROBOT Season One Summary here: https://meta.mirror.xyz/DoSGYLsUyPqm2Ct9dHVeyQFgfW3lX6-raWXWYkGYlhU
Complementing our DAO tooling, coordination and compensation efforts, iROBOT was born in 2021 as a decentralized fundraising mechanism to grow the MetaFactory community.
Throughout the course of last year, MetaFactory was approached by a number of interested investors. However, after some discussion with the community, we were reluctant to take on any external funding or large capital partnerships at such a nascent stage. We have big aspirations, far beyond just a simple merchandise marketplace, and it is critical that any investor is aligned with our vision. Additionally, we wanted to ensure that any investment into ROBOT benefited the entire MetaFactory community equally — in short, we wanted it to be on-chain.
In September 2021, MetaFactory joined a number of teams and individuals who are part of the MetaCartel ecosystem at MCON 2021 in Denver. During the event, MetaFactory threw its first ecosystem party, which included a pop-up shop. We were overwhelmed by the response from the community and the following day, an effort emerged to help support MetaFactory's growth. Led by the Fire Eyes and DAOHaus teams, a new DAO was formed to coordinate ROBOT liquidity on a large scale through on chain governance: iROBOT.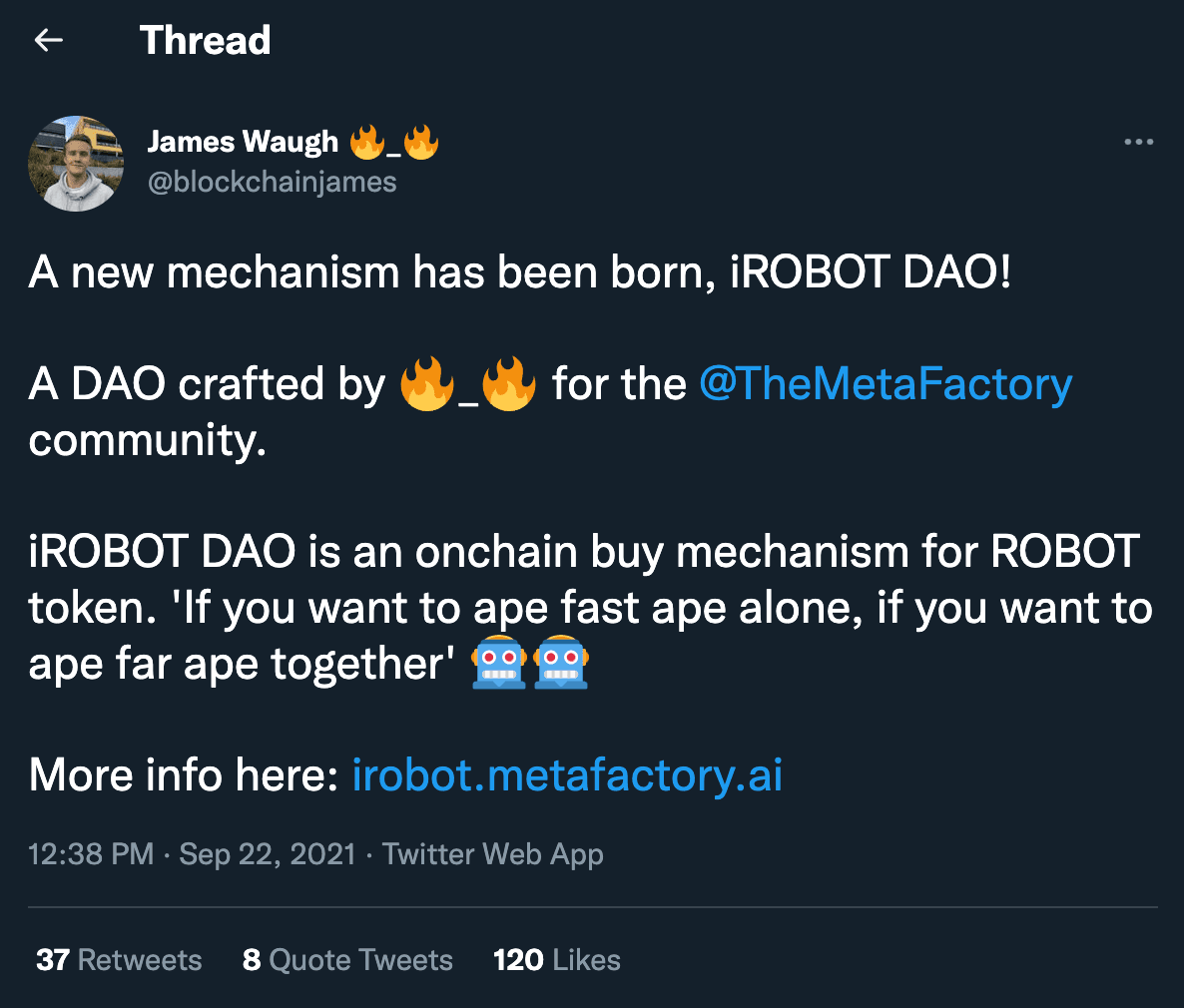 More specifically, 171 different participants deployed 1024 ETH via a Balancer Liquidity Bootstrapping Pool (LBP). Although initially intended to bootstrap liquidity for a new token, the iROBOT DAO leveraged the Balancer LBP approach to deploy a new Balancer v2 liquidity pool. This new pool started heavily weighted towards WETH (99% WETH /1% ROBOT) and auto-adjusted its weighting to match the existing v1 liquidity pool (70% ROBOT/ 30% WETH). In summary, the new v2 pool slowly purchased ROBOT from the existing v1 pool over a period of two months increasing the buy pressure and overall liquidity of ROBOT.
By taking a decentralized approach, the iROBOT DAO was able to collectively coordinate and permissionless-ly deploy a large amount of capital in support of the MetaFactory project and community. Acting as a decentralized seed round, the 171 members of iROBOT were able to dollar cost average into a large ROBOT position early in MetaFactory's growth. By specifically leveraging a Balancer LBP, iROBOT DAO was also able to avoid any front-running/sandwich attack bots, as well as save on gas fees.
One of the most impressive outcomes of this initiative was highlighting a new weapon for slaying Moloch. Could each of the iROBOT members have individually purchased ROBOT via the open market instead of as a group? Sure, but such a zero sum approach pits each individual against one another. Instead, the iROBOT DAO, through effective coordination, established a better cost basis for all members. Additionally, the approach demonstrated that groups of motivated individuals are now able to coordinate and compete with large, centralized funds and deep-pocket investors.
Moving forward, the iROBOT team will be focused on increasing $ROBOT utility. Potential ideas include a Fuse Lending Pool, new staking mechanisms, OHM fork tokenomics, L2 liquidity mining strategies (not to mention special access to custom product drops and IRL events).  Every liquidity provider is granted access to the iROBOT working group with the ability to propose, vote on and earn from their contributions.
Get Involved!
MetaFactory is an open playground for collaboration with many different initiatives. We leverage a variety of tools for organizational and production management and operations, but our Discord is the front lines for all innovation and discussion.
Come get involved with the first community-owned and governed brand and help reshape the way we create, work and reward each other: https://discord.gg/bhn8Xr9
— — — — — — —
LEARN MORE:
Shop: https://shop.metafactory.ai/
Community: https://discord.gg/bhn8Xr9
Twitter: https://twitter.com/TheMetaFactory
Instagram: https://www.instagram.com/themetafactory/
Governance Forums: https://gov.metafactory.ai/